Over 39 free shipping!!!
Main Features:

Delicious finishing touches

The better it looks the yummier it gets. Turn the boring dessert into an artistic dish to stun the guests.

Turn a tray into a canvas

Beautiful shapes and lines can be easily drawn with the pen spoon. Every delicious meal deserves a décor.
Enhances your taste 
The presentation is part of the experience! Stainless Steel Decorating Spoon adds a beautiful look to stimulate its taste.
Stainless Steel Decorating Spoonis the ultimate choice
Put up any liquid in the pen and start drawing. Stainless Steel Decorating Spoon enchants every meal with delicious beauty.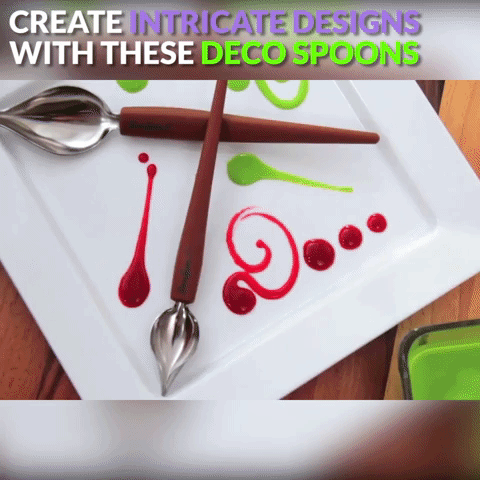 Turn The Next Meal Into A Beautiful Decoration
Stainless Steel Decorating Spoonis a pen made for decorating foods and trays to bring out the full beauty of the dish you are serving. Fill it up with liquid and start painting like you are working on a canvas.
With some practice, you can draw beautiful lines and patterns on the trays or decorate the meal to look exquisite and delicious. The look enhances the taste of any dish you'll decorate.
Stainless Steel Decorating Spoon makes the food look as delicious as it tastes. Your next meal at home will feel like a serving from a 5-star restaurant.
Specification
Material: Food-grade Stainless Steel
Size: 18cm (Small), 20cm (Large)
package includes
Stainless Steel Decorating Spoon*1