Stackable! you can steam/make hard boiled 14 eggs one time.
You can cook different foods on 2 layer steamer racks separately.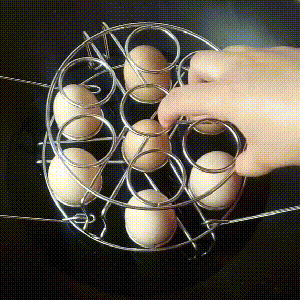 MULTIPLE FUNCTIONS: With stackable egg stand you can steam/make hard boiled 14 eggs one time in a few minutes. Will also be perfect for cooking fish, chicken, meats & veggies etc. or as cooling rack, pot stand rack, food holder.
NECESSARY ACCESSORIES: Useful accessories for size 6/8 quart electric pressure instant cooker stovetop, compatible with instant pot models IP-DUO50, IP-DUO60, IP-LUX60, IP-DUO80 etc.
UPGRADED DESIGN: This pressure cooker trivet has a 2-layer stackable design and long heat resistant handles, which makes this trivet for pressure cooker easier and safer to take food from your Instanpot without burning yourself.
100% FOOD SAFE: Egg steamer rack trivet with handles are made from food-grade stainless steel and silicon , durable, NO rust, easy to clean & dishwasher safe.
LIFETIME SERVICE: If for any reason you are unhappy with our product you will be entitled to a full refund or replacement. Please contact us with any questions or concerns - we are here to help.
Egg Rack Specification:
Material: 304 stainless steel
Stackable Type Size: 6 x 6 x 2.5inches
Handles Type Size: 6.9 x 6.9 x 1.7 inches
Handle Length: 4.7 inches
Package Included:
1 x Stackable Egg Rack