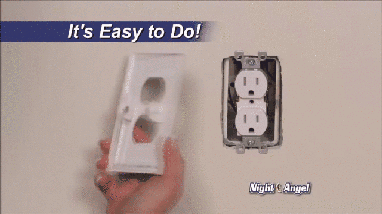 ILLUMINATE YOUR HOME!
Looking for a wall outlet to use in your bathroom or bedroom shouldn't be so hard! You can now use Wall Outlet Cover Plate with LED Lights Safety Sensor Plug!
LED Sensor Wall Outlet Cover can be installed so easily so there's no need to fuss in using it for the first time plus it fits all standard outlets. It was designed for simplicity as a safe solution to the household nightlight.
LED Sensor Wall Outlet Cover automatically turns on and off with a light sensor. Using batteries, wires, and mounts will be unnecessary since you can just snap and go.
If you're used to multiple outlets at home, now there will be no need for it any longer. It looks like a standard outlet by day and it turns to a perfect guide-light at night.
With just the right amount of light, you can sleep easily now with the guide-light that makes it energy efficient too.
It also makes you worry-free when you have kids at home since the guide-light doesn't heat up like the standard lights we normally use.
The guide-light is safe for children since it doesn't have open bulbs that are prone to burning and cutting once accidentally broken. This is a guaranteed high-quality product that you can use efficiently.
Highlights:
Convenient and easy to install

Sensor to trigger guidelight


Perfect home decor

Low profile design

Energy efficient

Eliminates usage of multiple outlets

Safe for kids

Satisfaction guaranteed
How to Install:
Simply turn off the power to the outlet at the breaker box
Unscrew and remove the current outlet cover
Slide this wall cover over the outlet
Replace the existing screw to attach it to the outlet
Turn the breaker back on
Specifications:
Wattage: 0-5W

Size: Duplex

Color: White

Power Source: DC

Light Source: LED Bulbs

Material: Plastic

LED Quantity: 3
Package includes: