Easily separate pulp & juice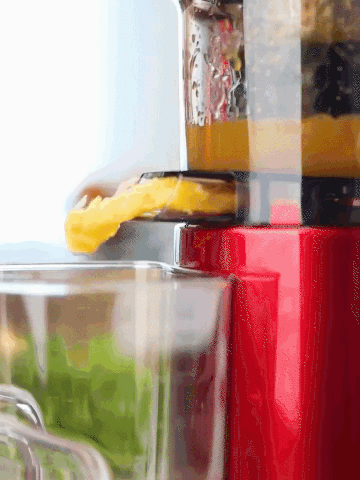 Fresh juice & Fresh pulp & Baby food

Outing & Family gathering

Easy to clean

Strong power
3.150 '' wide.

 

It can flip over 12mm wide mouth to allow large fruits and vegetables to fit into the appliance with little to no cutting necessary.

 

It also has a 6mm opening that is designed for longer products.

 

The two openings are designed so that products can easily enter the juicer, regardless of size.
Increased Nutritional Value: The powerful slow speed of the 200W AC motor allows each production piece enough time to fully extract its juice, leaving only dry pulp and delicious, nutritious juice.

 

A low speed prevents oxidation, which allows the nutrients in each fruit and vegetable to be maintained and leads to a better flavor and longer lasting juice.
MULTIFUNCTIONAL JUICER - Large caliber juicer chewing machine can make various of products like carrot, kale, apples, oranges, etc.

 

And equipped with an improved fine strainer (for purer juice) for your juicing needs.

 

It is better for your healthy life.
EASY TO ASSEMBLE, DISASSEMBLE, AND CLEAN - Setting up this juicer takes just a few easy steps unlike many of its competitors.

 

Disassembling takes less time and each part is designed to provide a quick and efficient cleaning process.

 

Includes a cleaning brush.