Black Car Folding Collapsible Bucket Retractable Storage Can Holder Container 4L
Excellent for home storage, camping, picnics, cooler, tool room, gardening, fruits and veggies basket, cleaning, housekeeping, car care, etc.
Features:
1.It is made of imported high strength plastic and mixed with self-developed modification . In addition it is colorful , non-toxic and tasteless.
2.The temperature range of the product is -20 degree ~ +100 degree.Can reserve alkali, acid, salt, oil liquids goods, such as seafood, ice, vegetables, oil products. And easy to clean after using .
3.You can pull up the barrel body according to the actual required volume, the height can reach 8.7", and the volume is 4L.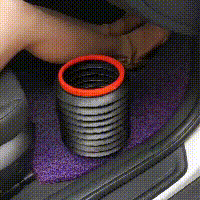 4.Use as barrel --- when camping, the storage bucket can be used as a barrel to store water: shrink the storage then it can be as a washing basin.
5.Use as bin --- it can be placed in the car to use as a small dustbin to deposit rubbish such as paper, drinks, some food and so on.
6. Use as a vessel for collecting sundries --- it could be placed on the table to collect some daily sundries in small volume.
7. other purpose --- can be applied to store food, you can place food, ice cake in it to keep fresh or cool; in addition, it also can be used to place the wet umbrella.
8. Portable and space-saving foldable design. for car, home, outdoor, travel use.
Description:
Type:Folding Collapsible Bucket
Material:ABS/PP
Capaicty:4L
Open Size:18*18*22cm/7.08*7.08*8.6"
Close size:18*18*6.5cm/7.08*7.08*2.5"

Package List:
1* Folding Collapsible Bucket