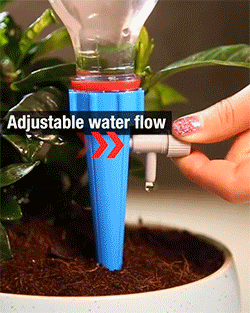 Warm reminder:you need to make a hole in the bottom of the bottle to let air in so that the water can drip out
Do you want to go on a VACATION but too worried your plants might die from DEHYDRATION?
Or are you the type that you unintentionally OVER WATER your plants because you're too afraid they'd dried up when you leave the house?
Take all those worries away as this PLANT WATER FUNNEL will TAKE CARE of your plant babies. And it can effectively recycle plastic bottles, reduce waste and protect the environment.
🌷PLANT WATER FUNNEL is a device specially made for plant watering that has CONTROL VALVE that can control the DRIPPING SPEED of water from 0-60s/drip. The SUSTAINED RELEASE drip could last for ONE to FIFTEEN DAYS.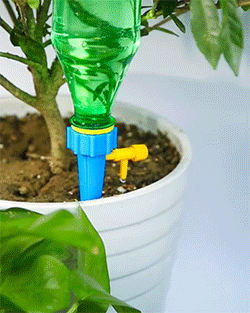 How to use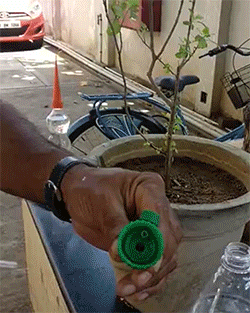 Just ADJUST the valve to meet your need no need for COMPLICATED INSTRUCTIONS. It helps you SAVE TIME and WATER. It DOES NOT require any INSTALLATION process. You just NEED an EMPTY bottle to PARTNER with this product.
Product Features
🌺Adjustable valve: The flow rate can be controlled. The plant watering Device with a control valve can control the dripping speed of 0-60s/drip, and the sustained release drip lasts for

 1-15 days

.

 

Only adjust the valve to Meet your needs without complicated setup steps. Save time and water.


🌺Simple and convenient: No tools are required for installation, just drill some holes in the bottom of the bottle or cut the tail of the bottle to keep the air flowing. Accurate water volume, provide different amounts of water for different plants and flowers, each plant is unique.
🌺Widely Compatible: Suitable for brand bottles - Dr. Pepper bottle, Pepsi bottle, Coca-Cola bottle, Lipton bottle, Diet Coke bottle, Aquafina bottle, or other 1. 1-inch inner diameter bottles. (Bottle not included)


More healthy plants Enjoy your holiday with your family,

 

leave your plants to me, self water your plants and vegetables, and make your plants thrive;


🌺Recycle plastic bottles effectively: 

Reduce waste and protect the environment.
Specification
Size: 13x3 cm/5. 1*1. 1
inch bottle size: 1. 1
inch maximum water capacity: 2
LitersColor: Blue, Green
Suit for: Plant, flowers, vegetables and so on
550ml water supply time about 1~5 days2000ml water supply time about 7~15 days
Package includes
6* Plant watering spike

12* 

Plant watering spikes



SHIPPING & DELIVERY
We process orders between Monday and Friday. Orders will be processed within 7 business days of ordering and shipped out the next day after the processing day. All orders are shipped with a tracking number so you can track it every step of the way!