Pet Hair Lint Removal Squeegee Broom
Do you struggle with pet hair all over your house? The Pet Hair Remover Rubber Broom easily removes dog hair or cat hair from carpets, hardwood, tiles, stairs, and any other surface.
Say goodbye to those frustrating traditional broom for pet hairs. Cleaning up dog hair will never be a headache anymore!
Are you struggling and trying to keep your house clean and fur-free? Luckily, we have an easier way to solve your dilemma with our Pet Hair Lint Removal Squeegee Broom! You can now keep your sofa, furniture, blankets, and surroundings fur-free using our awesome squeegee broom. You'll never get frustrated anymore when you buy the best cleaning tool in the market and one of them is our squeegee broom.
If you want to be able to remove pet hair from your floors quickly and efficiently, our Pet Hair Lint Removal Squeegee Broom is a great idea. To sweep up pet hair specifically, choose our squeegee broom made with rubber bristles because it attracts pet hair so it'll be that much easier to sweep hair and dust into piles that you can pick up with a dustpan.
FEATURE(S):
SWEEPS EFFORTLESSLY: The rubber Bristles easily gather up dust, hair, paper scrapes on floors, and carpets. Increasing 50% efficiency than a normal broom and make no ash or pet hair flying in the air during sweeping.
VERSATILE:

 

Thanks to its built-in squeegee and durable rubber bristles, it can be used on both wet or dry carpet, rugs, hardwood, cement, and tile flooring. You can even sweep hard-to-reach places with ease.
HIGH-GRADE QUALITY: Our Pet Hair Lint Removal Squeegee Broom is made with high-quality rubber flexible bristles that are tough enough even for scrubbing rough concrete surfaces.
EXTRA LONG & ADJUSTABLE HANDLE: The handle extends from 27.6 inches to 50.1 inches suits for people in different heights to use. Long enough for tall adults to use, and prevents from bend down while sweeping. It can also be shortened for children to use by themselves.
EASY MAINTENANCE:

 

Our Pet Hair Lint Removal Squeegee Broom is easy to stay the broom itself clean by wash under the tap. The dust or hair will be easily washed down from the bristle and still look like new. It is water-resistant and dries quickly.
INDOOR & OUTDOOR USE: With built-in squeegee edge, it is also suitable to be used in outdoor areas like garden, balcony, patio, garage to wash the floor, clean up water, or spills, clean window, etc.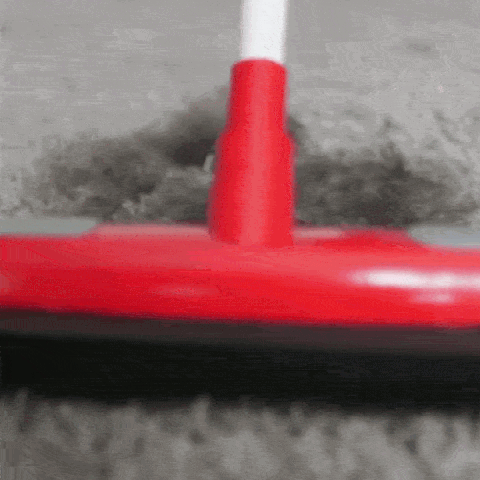 SPECIFICATION(S):
Material:

 

Rubber
Overall Length:

 

1.2m
PACKAGE INCLUDE(S):
Q&A:
Q: Does this come with a handle? Telescoping handle of fixed length? If telescoping, what are the short/long (retracted/extended) dimensions?
A: This broom comes with telescoping handle, can be as short as 27.6" or as long as 50.1". Sturdy metal and locks in place.
Q: Would this work for scrubbing shower walls and bathtubs?
A: Yes, it will work.
Q: I have a hair salon will this sweep up hair?
A: Yes, it will. You will absolutely love this for sweeping up hair.
Q: Can you disassemble it?
A: Yes, you can disassemble it by twisting the head.
Q: will this broom remove footprints from the rug?
A: Yes, it does, but it depends on how dense the carpet is.
Q: Can this broom be used on artificial grass?
A: Yes, of course.