Are you raking your brain for the best gift for your child and just can't seem to come up with something? This set is exactly what you should get them. It is ideal for keeping your kid busy while helping develop hand-eye coordination and exercise their creativity too.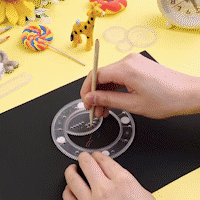 GET READY FOR HOURS OF FUN with thIs Set, a must-have for young and old alike.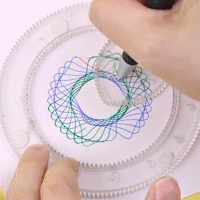 PRODUCT FEATURES
BEST FOR ASPIRING ARTISTS – This design toolset is great for kids showing interest in arts and crafts. Fantastic drawing toys guide boys and girls in creating spiraling designs and tracing perfect shapes in no time.
PROMOTES FINE MOTOR SKILLS & IMAGINATION – This kit improves kids' hand dexterity to keep the stencil in place and fine motor skills while they trace their designs of choice. With different shapes and designs to choose from, imaginations' the limit to make whatever they have in mind: flower garden, beach day, aliens, and more!
STIMULATE YOUNG MINDS – No instructions needed! Just place the stencils and rings on top paper, hold them in place, and trace away. Get creative with it! Mix and match the shapes from the templates to build and draw your designs easily.
PERFECT FAMILY ACTIVITY – This Kidtastic drawing kit for kids can be enjoyed by both kids and kids at heart. The whole family will enjoy seeing different shapes and designs take place by just tracing the wheels with the stencil kits. You can use it with storytelling, guess my drawing, or simply design for kids because the possibilities are endless.
PRODUCT DETAILS
Help kids exercise their creativity
Let their imagination run wild
Take your design to the next level
Completely safe for your kids
PRODUCT SPECIFICATION
Material: High-Quality Plastic
Size: 22 x 31.5 x 3cm
Weight: 350g
Age: 3 years old and above
Accessories: 15 wheel gears, 2 ring gears, 1 rack, 4 pieces special-shaped wheel gear, 1 piece of viscose, 3 pens, 1 pack of A4 paper, 1 pattern guide book.
PRODUCT INCLUDES
1 x Magic Ruler Kaleidoscope Painting Set