Beat the summer heat in a cool & stylish way
If you're looking to transform a hot and stuffy room into a temperature that is personalized to your needs and comfort, then it is high time to make a sound investment in this LED Time Display Mini Desktop Fan!  It is uniquely designed as a USB powered fan that displays an LED clock as it spins.
This time display fan has low noise emission and has a cool look that will seamlessly blend in any home interior or modern office space. You can even change the displaying text easily on your computer.  All you need is a USB port to create a gentle refreshing breeze with the coolest spinning effect.
Highlights:
GENTLE STREAM OF AIR:

 The lightweight fan is powerful enough to produce a steady, gentle breeze and keep your body temperature in check

COOL TIME DISPLAY EFFECT: It displays the time or any text with a cool glowing effect as it spins
EASY TO USE: J

ust plug into any USB power source to operate and easily edit the displaying text on the computer when connected

NOISE-FREE: It boasts a quiet operation so it doesn't cause needless distraction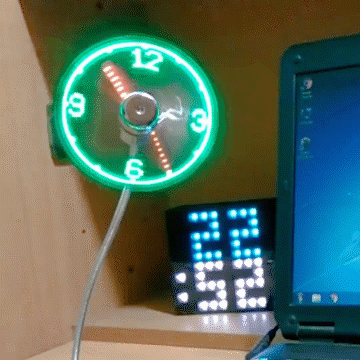 PORTABLE:

 

It is a small USB cord-connected cooling device that can be easily moved from place-to-place
SPACE-SAVING:

 This will take up minimal space on your office desk

SAFE: 

The blades are soft but durable so it won't hurt you even if you accidentally touch it while it is spinning

ADJUSTABLE GOOSENECK: 

The fan blades and gooseneck are soft and flexible so you can easily turn the fan in any direction and at any height
Another ordinary style: Lazy USB Cable Fan
Simpler and Cheaper
Enjoy Cool and Comfortable Working with Lazy USB Cable Fan Aside from your Laptop even in Summer Time!
Specification:
Package Includes: 
1 x LED Time Display Mini Desktop Fan OR 1 x Lazy USB Cable Fan