Clean silverware easy and fast with this Inside The Sink Silverware Washer!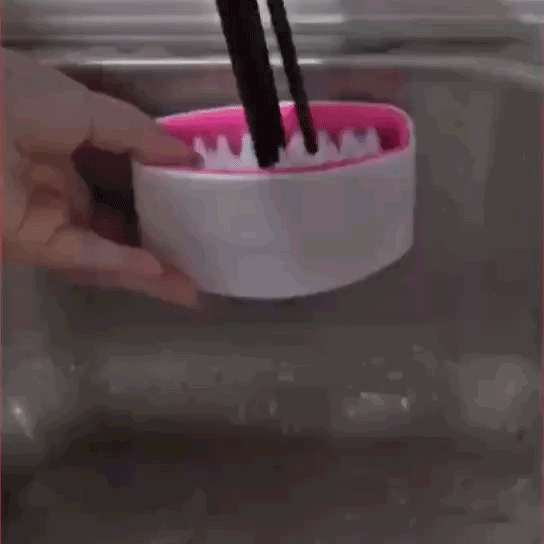 Can be used as a brush after disassembly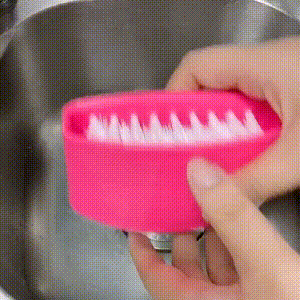 A fast and easy way to clean knives and utensils after cooking, but also an everyday time saver for those without a dishwasher. There is a large suction cup on the back that allows attachment to your sink, and the lasting bond will keep it ready for action, whenever you need it.
The durable plastic shell is completely lined with bristles on both sides, and they are the perfect length to give full coverage without preventing movement. It can be used to wash a single knife after chopping vegetables, or several pieces of silverware all at the same time. Just add a bit of soap and water, and then press through and pull up to scrub things clean. It works way better than a sponge or a scrub pad, and allows you to touch less of the yucky stuff while working. 
WHY IT'S GOOD
Time Saver. Washing stuff by hand can take forever. This tool multiplies your effort to allow you to finish sooner.
Versatile.

 

Wash one knife, or wash three spoons. The wide opening and adaptive interior mean you can use it with many shapes and sizes of utensils. It also makes it easy to wash several pieces at once.
Always There.

 

No digging under the sink, or running to the cupboard because this scrubber will be right there when you need it. Strong suction keeps it right on your sink, and prevents it from moving as you wash.
Easy-To-Use.

 

It could not be more simple, but that does not decrease effectiveness. Anyone can make silverware and knives sparkle when using this tool.
High Quality. Durable materials and quality construction mean that this product will work well, and last through tons of use.
How To Use It
Speed and efficiency are the name of the game. Stop wasting time and effort with rags, sponges and brushes, and get your cutlery and other utensils cleaner than ever. Powerful bristles pack the interior and overlap for maximum coverage. Just plunge down to quickly remove food dirt and other grimes with the gentle cleaning action. Use with a single item or several, and follow the instructions below for best results.
For best results, attach to side of sink using the suction cup. It can also be used as a hand-held tool, but it's designed to secure in place and be ready when you need it.
For a strong bond, make sure sink and cup are both clean and dry. Press firmly in place to secure.
Drizzle dish soap over the top of the bristles.
Wet cutlery and other utensils, and then push down through the bristles to wash. Use a quick up and down motion to thoroughly clean, and remove stuck food.
Wash one at a time, or work with several at once.
Hand washing is recommended when dirty, but to accomplish this easily, simply add soap and let water run through the bristles until clear.
"THIS IS GREAT!! INSTEAD OF PUTTING SILVERWARE INTO THE DISHWASHER WITH FOOD PARTICLES STILL ON IT, JUST RUN THE SILVERWEAR THROUGH THIS CLEANER TO GET THE GUNK OFF. YOUR SILVERWEAR WILL COME OUT MUCH CLEANER AND SHINEY!!"- BRYAN, 38, USER
 SPECIFICATIONS
Material: PP
Size: 11 x 6 x 4cm (approx)
Color:

 

Pink, Green, Blue

PACKAGE INCLUDES
NOT SOLD IN STORES!
Please note that Shipping Time will take approximately 3-4 weeks.

SHIPPING INFO
How long will order processing take?

Orders typically take up to 7 days to process before they ship – excluding weekends and holidays. During the holidays, processing times may take up to 14 days. You will receive an email confirming your purchase with the shipping tracking number when your order is shipped out.
How long will it take for me to receive my item?

US orders will be shipped via USPS. Shipping methods for international orders will vary based on the shipping address provided.
Transit time to the US: 5-20 business days 
Transit time to international: 10-45 business days
An order takes 3 weeks on average to ship. 
There are circumstances that are out of control (natural disasters, holidays, weather, etc) that may cause shipping postponements. While most packages will arrive on time, there may be circumstances and delays that our carriers may experience. For this reason, we do not guarantee the exact delivery time; delivery issue is the responsibility of the shipping company. 
Please note that Shipping Time will take approximately 3-4 weeks.
RETURN POLICY
What is your return policy like?

We'd like to think that every customer leaves a happy customer (and we have good reason to!) but in the event that you don't, we offer 30 day money-back guarantee, no questions asked! Just our way of saying thank you for your trust!