Sifting your flour makes your dry ingredients smooth and fluffier. Made from stainless steel, this Hand Press Flour Sifter is used to add air to dry ingredients and make it lighter and boasts consistent texture.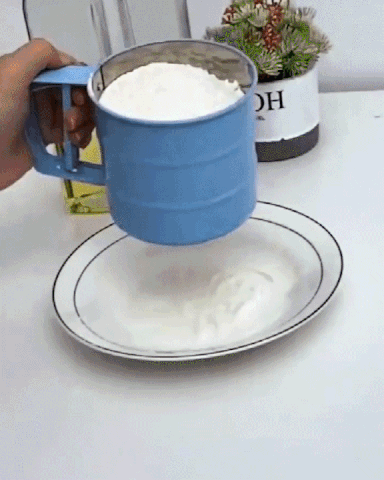 This sifter is one of the irresistible kitchen tools to have. It makes baking more fun and manageable.
Product Features: 
✅Premium quality and Durable 
This Hand Press Flour Sifter is made using rust-resistant stainless steel that will definitely last for decades. Made of stainless steel that offers durability and reliability. 
Our Hand Press Flour Sifter offers durability that guarantees a lifetime use. The strong and sturdy construction with a mirror-polished design makes it perfect for filtering flour.
✅Semi-Automatic 
It features a semi-automatic handle that is easy to use. Simply press lightly and let it do its job. Plus, it ensures effortless shifting performance. 
✅Fine Mesh Sifter
This sieve sifts both fine and coarse flour without getting clogged. It is used to break up lumps of flour for efficient baking and assures the flour's consistency.
✅Impressive capacity 
This Hand Press Flour Sifter is sturdy and can hold large quantities of flour and sugar. Reliable kitchen tool for baking and cooking use. 
✅Easy to Operate and Clean
Our Hand Press Flour Sifter is comfortable to hold and easy to operate. It is simple to clean and lightweight. You clean it through hand wash or dishwasher. 
✅Versatile
 Hand Press Flour Sifter is perfectly versatile. Perfect for filtering flour, almond powder,  pool powder, cocoa powder, cake seasoning powder, and many more. 
Specification:
Material: Stainless steel
Size:10*16.5*9.5cm/3.94*6.50*3.74"
Color: Blue; Pink
Type: Mesh Flour Sifter
Package Included:
1 x Hand-pressed flour sifter