This Incredible Handy Lid is perfect for covering that boiling pot so that you never have to worry about it overflowing from too much build-up.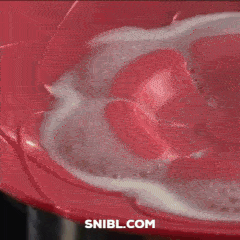 If you've ever made pasta or spaghetti, you know what we're talking about. Its silicone design is perfect for handling the heat, and the lid can be used in many creative ways. 
Use it for deep frying, microwave lid, steamer, and much more!
★Safety: BPA free,Food grade silicone, Non-toxic.
★Easy to Clean: Non-stick water,Not sticky oil, Easy to clean.
★Multi-purpose

:

 To avoid splashing and cooking oil droplets also Can be placed in Oven Microwave or Fridge and so on.
★Heat Resistant: Working Temperature Range -40 °F to 482 °F ,High temperature resistance for healthy cooking.
★Stackable: No Center Knob Allows for Better Fridge Organization. Chef Approved!


9 out of 10 customers love this product. Save yourself the time and energy and avoid messing up your whole stove. Once and for all, this Incredible Handy Lid is your ultimate solution.
We understand it is impossible to stand long minutes in some cases even hours at the stove, constantly checking all those pots. Just a few-second-look at your smartphone is enough for the water to rise and spill over on your stove. Avoid it now! Your solution is this excellent Handy Lid. It pays for itself by the time you
are done with your first meal with this new Handy Lid Spill Stopper.

Features
Made from 100% non-toxic BPA-free silicone
Microwave safe
Reusable and dishwasher safe
The material will not retain odors or flavors.
Non-stick, Easy to use
Size Super Large: Diameter 28.5cm (11.2 Inches)
with hand grips 35.6cm
Free Worldwide Shipping, please allow 2-5 weeks for delivery due to high demand. 
OUR GUARANTEE

Not satisfied with your order? No worries! Let us know within 30 days, and we will give you a stress-free refund.