Stay sparkly and drive glamorously with this handmade crystal steering wheel cover. It's non-slip, stable and wear resistant material makes it the ultimate accessory for any glitz lover to have. 
Health benefits: The physical act of massaging a crystal for several minutes is proven to provide therapeutic & psychological benefits that help soothe your nervous system, reduce stress and anxiety, help you feel grounded and help you clear your mind so you can focus and think clearly.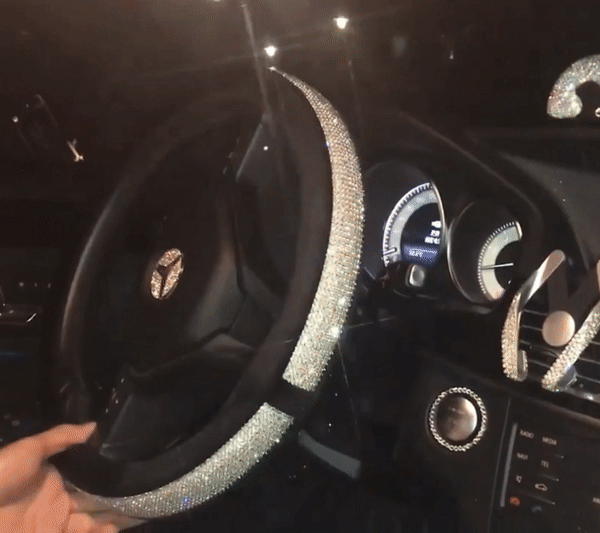 Super grip & comfort: Breathable, soft padding, massage your palm and relieve driving fatigue.
Durability: Works great with heated steering wheels, cold resistant and wear-resistant. 
Increased safety: A better grip on the wheel gives you more control on the road.
Applicable models - Universal: fits all cars

Measurements - 15 x 15 x 3 inches ( 35 - 38 cm )

Easy to install

 
Special Features: Add style to your commute, Anti-slip

Fits 14.5-15 in Steering Wheels

Material Type: High Quality Leather & Crystal

Life's too short to drive boring cars...

Set your car apart from the rest with the crystal steering wheel cover.

The TrendeStore Crystal Steering Wheel Cover is crafted from premium materials to ensure the best overall quality possible.
1000's of smoothed bling stones are embedded directly on the side of the cover for a soothing hand feel.

Our steering wheel cover is designed to be compatible with most car brands. It's suitable for heated steering wheels and it has a special non-slip inner to prevent slippage.

It comes with a FREE Crystal Ignition Ring and spare bling stones with glue just in case you need it.

We take pride in what we offer, If you aren't completely satisfied with your order, let us know and we'll do our best to make it right.


Unmatched Comfort: Not only is it made to look fabulous in your car, but it also provides a layer of comfort so you're comfortable behind the wheel at all times!
Environmental Adaptation: Most covers don't work with a heated steering wheel or get sometimes too hot to handle in the sun. The Carreau Steering wheel cover on the other hand functions with a heated wheel and is heat resistant up to 420°F!

Built to Last: Due to the high-quality materials used and the way the crystals are embedded, this cover will provide your car glamour & comfort for many miles!


The Trendestore Crystallized Steering Wheel Cover is easy to install and will fit most medium-sized steering wheels up to 14.5 to 15'' inches in diameter.

Follow the steps below to ensure proper installation of your Carreau Steering Wheel Cover.

Step 1 Put the Trendestore Steering Wheel Cover on top of your steering wheel.

Step 2 Pull the steering wheel cover tight from top to side.

Step 3 Keep pulling the steering wheel cover tight from side to bottom.

Step 4 Fix the bottom of the steering wheel cover and adjust it.