Fishing Can Take A Lot Of Time!
Do You Sometimes Wish You Could Deal With Other Things Without Disturbing The Fish?
Well now you can do more while fishing!
✅ Set Your Hook Automatically When You Are Not Around
✅ Catch Much More Fish By Using Many Rods
✅ Save Time And Let The Rod Do The Work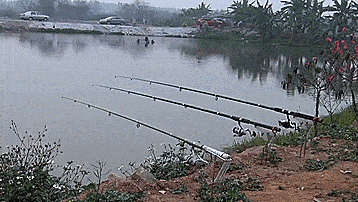 ✅ Line trigger activates tip-up only when fish pulls the hook - no misfires

✅ Built-in ground stakes. The new design circle plate for the fishing rack holder easier to plug into the soil than any other old version. You can put your hand directly on the plate and push it to the soil.

✅ Will never rust & anti-corrosion! All metal construction. This fishing rod holder is totally made of high-quality Stainless.
🎣 Perfect for shore fishers with many rods out at the same time, or just lazy and Boat fishing lovers, the spring-loaded rod holder will actually pull back whenever a fish is detected on the line. Using an innovative way of stringing the line through a hook on the device, it becomes a super sensitive way of detecting when a fish is on the line and will immediately pull back on the rod to set the line.
🎣 The spring-loaded fishing rod holder has three different levels of sensitivity, so if one setting is too sensitive or not sensitive enough for the fish you're trying to catch just adjust the setting on the device.
 Package Includes:
🌎 Worldwide Shipping ✈