Buy 3 free shipping!!!
Features:
1 This chest expander is made of high-quality rubber material, with superelasticity and durability, which is a very practical fitness tool.
2 The material of this fitness pull rope is soft and comfortable. It can be folded at will. It is compact, light, and easy to carry out.
3 This tension belt can be used to stretch the chest and help exercise the muscles inside the chest, abdomen, and arms to give you a tight figure.
4 This yoga elastic rope can also carry outback stretching training, exercise back, shoulder, and arm muscles is a versatile fitness tool.
5 This stretch band with a special anti-skid foam handle design, can effectively prevent the muscle injury due to the hand suddenly slip in the exercise process, is a safe use of fitness tools.
6 This kind of pull rope is easy to carry, and it can be used without the restriction of the field. It can stretch at any time and anywhere. The effect is obvious, and it can help train a good figure.
7 This kind of pull rope can be used in a wide range, pilates, yoga, fitness, bodybuilding, stretching, can use this band for physical exercise, suitable for all fitness enthusiasts.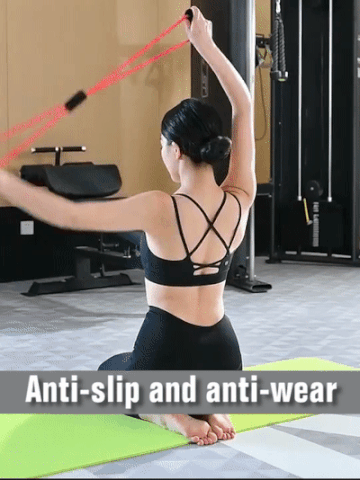 Specifications:
Material: TPE + NBR pipe
Size: 40 * 15cm (unused state)
Color: blue, green, pink, purple
Sports type: fitness, yoga, comprehensive sports
Item Type: Resistance Rope, Sports Equipment "
Features: Lightweight, easy to carry
Package included:
1*Yoga chest expander