Create perfect fruit garnishes effortlessly!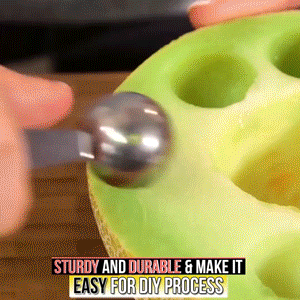 Whether you're serving a tasty fruit platter or trying to get your kids to eat healthily, this 2-in-1 Dual-Head Melon Scoop Carving Knife can make a big difference in the appearance of every dish! This handy tool makes an excellent addition to any kitchen by creating smooth, round melon balls a breeze.
It has an easy-to-grip handle, sturdy design, and has a scooping head on one end and carving knife on the other to provide you with endless possibilities.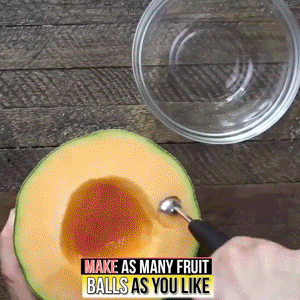 The scooper knife also has the extreme versatility of making spheres of other foods, like removing icky bits from tomatoes, cucumber seeds & apple core, or even making chocolate truffles, and more.
Highlights:
BETTER FOOD PRESENTATION: 

Lets your creativity run wild & create spectacular fruity desserts that will impress your family & friends

EFFORTLESS PREPARATION:

 The double-sided scoops are perfect for easy fruit & veggie preparation, so you can enjoy sweet, healthy fruit portions without difficulty

ENJOY DELICIOUS FRUIT PORTIONS:

 

Allows you to create perfectly-portioned fruit bits that can enhance the visual appeal of your food serving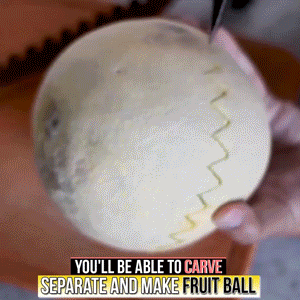 COMPLETE FUNCTIONALITY:

 

Both the scooping head and carving knife delivers razor-sharp precision into even the most stubborn of melons
ZERO DAMAGE TO FRUITS:

 The scooper comes with a small hole to help coax fruit out without getting damaged

EASY TO USE:

 It features a comfortable handle & a simple operation that can be used with ease by anyone, so you never have to break a sweat when preparing your fruits
WIDELY USED:

 Suitable for making balls of fruit, garnishes, and other pieces from watermelon, honeydew, & more

VERSATILE

:

 It is also ideal for seeding tomatoes, stuffing cupcakes, hollowing veggies for stuffing, serving sorbets, removing pineapple eyes, coaxing perfectly round truffles, and coring pears & apples

PREMIUM QUALITY:

 

Unlike other melon baller designs, this has been thoroughly crafted from the most durable material for maximum effectiveness, dependability, & guaranteed years of long-lasting use
Specification:

Material: Stainless steel + plastic

Size: Approximately: L18 cm

Weight: About 25.5g

Color: Pink / Blue / Yellow / Green 
Package Includes: